Sony Entry-Level DSLRs Annapolis MD
Designed to ease the transition from point-and-shoot to digital SLR in Annapolis, three new Sony Alpha models have revamped menu systems and beginner-friendly features.
---
Cable Speed by Millennium Digi
(410) 987-9300
406 Headquarters Dr Ste 201
Millersville, MD
NerdHeadz
(703) 203-9921
Bowie, MD
Services
Information Technology Services, Internet Products and Services, Electronics, Computer Consultants
Hours
Mon-Sun: 08:00 AM-08:00 PM
Payment Options
American Express, MasterCard, VISA, Debit Cards, Discover, Personal Checks,
Data Provided by:
Community Television of Prince George's
(301) 773-0900
9475 Lottsford Rd
Upper Marlboro, MD
Video Production Services
(301) 306-5700
4609 Annapolis Rd
Lanham, MD
Best Buy
(410) 571-9011
2643 Housley Rd Gateway Village Shopping Ctr
Annapolis, MD
Hours
Mon: 10-9
Tue: 10-9
Wed: 10-9
Thurs: 10-9
Fri: 10-10
Sat: 10-10
Sun: 11-7;


North Arundel Cable Tv
(301) 497-5400
406 Headquarters Dr
Millersville, MD
Jones Communications
(410) 729-7216
815 Route 3 N
Severn, MD
FADEK COMPUTER ANALYST,INC.
(301) 577-8417
9127 5TH STREET
LANHAM, MD
Services
Information Technology Services, Electronics, Multimedia, Computer Consultants, Computer Graphics and Imaging
Hours
Mon-Fri: 08:00 AM-05:00 PM
Payment Options
MasterCard, VISA, Discover, Personal Checks, Money Orders,
Data Provided by:
Sony Style
(410) 224-4971
2002 Annapolis Mall
Annapolis, MD
Hours
Mon-Fri 10:30AM-9PM
Sat 10AM-9PM
Sun 11AM-6PM


Best Buy
(301) 464-3080
15800 Collington Rd
Bowie, MD
Hours
Mon: 10-9
Tue: 10-9
Wed: 10-9
Thurs: 10-9
Fri: 10-9
Sat: 10-9
Sun: 11-7;


Data Provided by:
Sony Entry-Level DSLRs
Sony today announced three new digital single-lens reflex (DSLR) cameras aimed at consumers interested in transitioning from point-and-shoot cameras.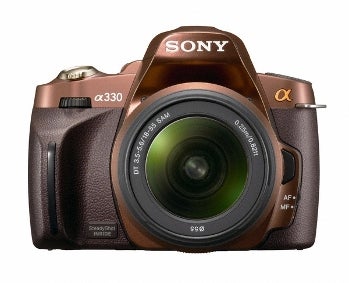 Priced at $550, the Alpha DSLR-A230 replaces the A200 as Sony's entry-level DSLR. The $650 Alpha DLSR-A330 replaces the A300. Both the A230 and the A330 feature a 10.1-megapixel resolution.
On the higher end of the spectrum, the Alpha DSLR-A380 replaces the A350. Priced at $850, the A380 has a 14.2-megapixel resolution.
All three cameras have APS-C size CCD sensors, Bionz image processors, lens mounts for Sony, Minolta, and Konica Minolta autofocus lenses, a built-in pop-up flash, a hot shoe, image stabilization built into the body, and a 2.7-inch LCD (the A330 and the A380 each have pull-out LCDs, while the A230 does not).
In a first for Sony, the new cameras also offer two memory card slots--both the proprietary Sony Memory Stick format and the more widespread SD/SDHC format.
The cameras feature a new software interface that aims to make it easier for inexperienced SLR users to understand and adjust camera settings. For example, the aperture and shutter speed settings each use a horizontal scale with iconic representations of the effect that a setting will have on a picture. Moving toward, say, the running-man icon on the shutter speed scale increases the shutter speed and lets the user know that the camera is being set to photograph action shots.
Each camera comes with an 18mm-to-55mm lens; the cameras are not available as body only. Sony also offers each camera in a two-lens kit, which includes the 18mm-to-55mm lens and a 55mm-to-200mm telephoto lens. Prices for the two-lens kit are $750 (A230), $850 (A330), and $1050 (A380).
The cameras have HDMI video-out for previewing images on an HDTV. However, running counter to a trend we've seen among new SLRs, the three new Sony cameras do not have the capability to record video.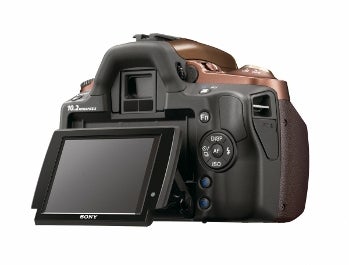 The A330 will come in black or brown. The A230 and A380 will be available in black only. The cameras will be on sale starting in mid-June.
Click here to read article at PC World